Week Review, Plan Our Future and Next Steps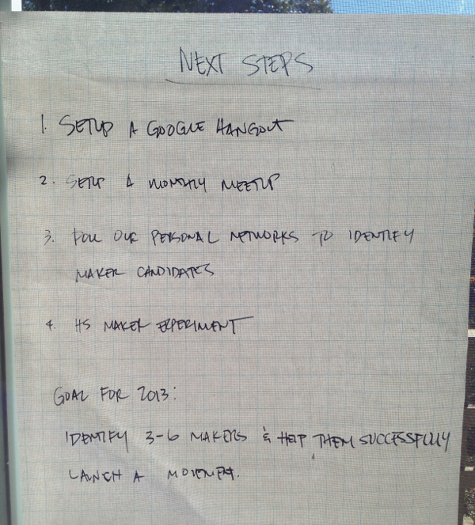 Week Review
A quick review of the week reinforced our commitment and gave us confidence in a week well spent. The review gave us a chance to reflect on the fluidity and alignment across the things we had discussed.
Plan Our Future
This is a journey that will take us through our lifetimes. To fully realize the unstoppable tide we want to create will take time. We talked about where we'd like to go and what the world will look like when we have finished. It was perfect to wrap our week to remind ourselves of the change we wanted to create in the world.
Next Steps
Every journey begins with a step and so we decided that we would start with a handful of makers. We would start with our personal networks, asking folks to name the first person who came to mind when asked who had the greatest potential to be a maker of a movement. Who, with the right help and coaching, would change the world. Finding mentors to pair with those makers up will be absolutely critical so we also will ask our friends and colleagues whether that person was someone they felt so strongly about that they would not hesitate to mentor, to give of their free time, coaching and expertise to help support to be successful. And, if their answer was no, then clearly that was not the right candidate for us to consider just yet. When starting small and scrappy, being selective and picking the low-hanging fruit helps ensure that you prioritize and deploy your limited resources effectively. Finding worthwhile candidates who people felt so deeply about to mentor without hesitation, those folks are our low-hanging fruit. From there, we will build success stories and expand our network.
In five days, we took a journey that led us down unexpected and wonderful paths. We emerge more committed than ever in our purpose. This will be the fuel that helps us keep pushing. to incite the makers of movements.
Jump to a section of our retreat by clicking on a link below:
Identify Our Audience
Set Our Success Criteria
Plan Our Future
Next Steps